TeamPatient Help: Member Connect
Member Connect
Members of TeamPatient Groups can communicate directly with each other through Member Connect, our in-mail service.
IMPORTANT NOTE: Member connect is a messaging services, not email. This is a direct one-to-one member communication and all messaging are exchanged within the TeamPatient application.
Read a Message
When a TeamPatient member sends you a message, you will receive an email from TeamPatient Community Website Support Team.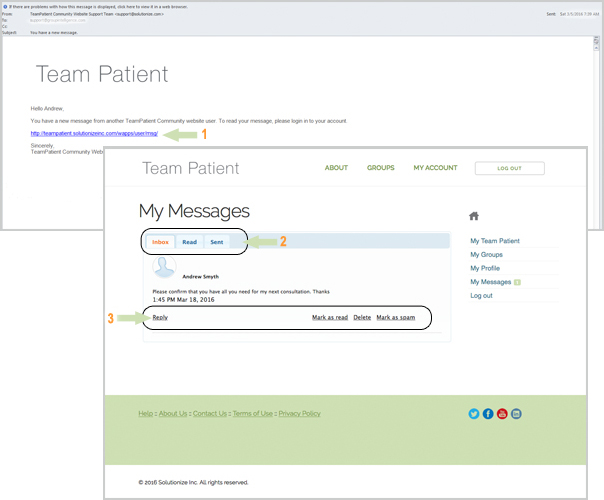 To read a message:
1. Click on the link provided on the email. Please note you will be required to login to TeamPatient in order to access your secure message.
2. Your messages are available from your Inbox. Your Read and Sent messages can be viewed by clicking on the appropriate tab.
3. Click on the "Reply" link to reply to a message. Additional links are also available to "Mark as read", "Delete" and "Mark as spam". Messages marked as read will be moved to the "Read" folder and can be accessed by clicking on the "Read" tab.
---